Favourite mode of transportation and even more so in this time of pandemic, more and more cities are competing to remove vehicles from their landscapes. City tolls at the entrance to London, the elimination of 65,000 parking spaces in Brussels, the introduction of low-emission zones in more than 20 major French communities, etc. Some have succeeded, such as Pontevedra, a Spanish city of 83,000 inhabitants, about which we wrote an article. The number of vehicles has decreased from 70,000 to 8,000 over the last thirty years. Today the city accounts for nearly 70% of all walking trips. A model of a car-free city, but unfortunately an illusion for many municipalities. Because some motorists are forced to drive, the MaaS can now partially meet this need for mobility. But how? The answer below.
Rural or outlying areas, not always accessible by mass transit
Bus, subway, tramway, funicular, RER, cable car, river shuttle, etc… Today, public transportation networks are striving to offer different solutions. However, this is not always possible, most often for budgetary reasons. Indeed, in 2016, the Institute for Transportation and Development Policy (ITDP) published a report evaluating the proportion of residents living at least one kilometer of a public transportation stop (People Near Transit – PNT). As a result, the majority of the 26 major cities selected were well served. However, when the suburbs or the metropolis were included, there were large differences.
In fact, on average the PNT was 68.5%, and subsequently fell to 37.3% in metropolises. A gap demonstrating the challenge that cities have to overcome. Emitting five times less CO2 than the car, public transportation is now essential to successfully implement a sustainable mobility strategy. But what can be done when it is not always possible for the public transportation operator, to expand their network?
Intermodality, one of the solutions for moderating daily car use
By combining several modes of transportation on the same trip, intermodality can limit the massive use of the car. Without totally excluding it, intermodality will seek to reduce the number of kilometers covered by car. How ? Through park-and-ride facilities, rail services, self-service bicycle, carpooling, etc. The aim is to encourage users to take advantage of the complementary nature of these different mobility services. "Door-to-door, for example, to go to work, users can drop off their car at the parking lot and take a bus , then walk or bike the last few kilometers.
However, it is important to note that from the user's point of view, intermodality can be seen as a constraint. Very often, coordination between the various actors (public transport operators, parking companies, private transport, local authorities, etc.) is not always optimal. Some unforeseen events may impact a route. No more parking spaces, train delays due to technical incidents, or yet loss of time when renting a bicycle (if there are any still available !) These risks lead that some users to use only their car. A problem that is now solved thanks to MaaS !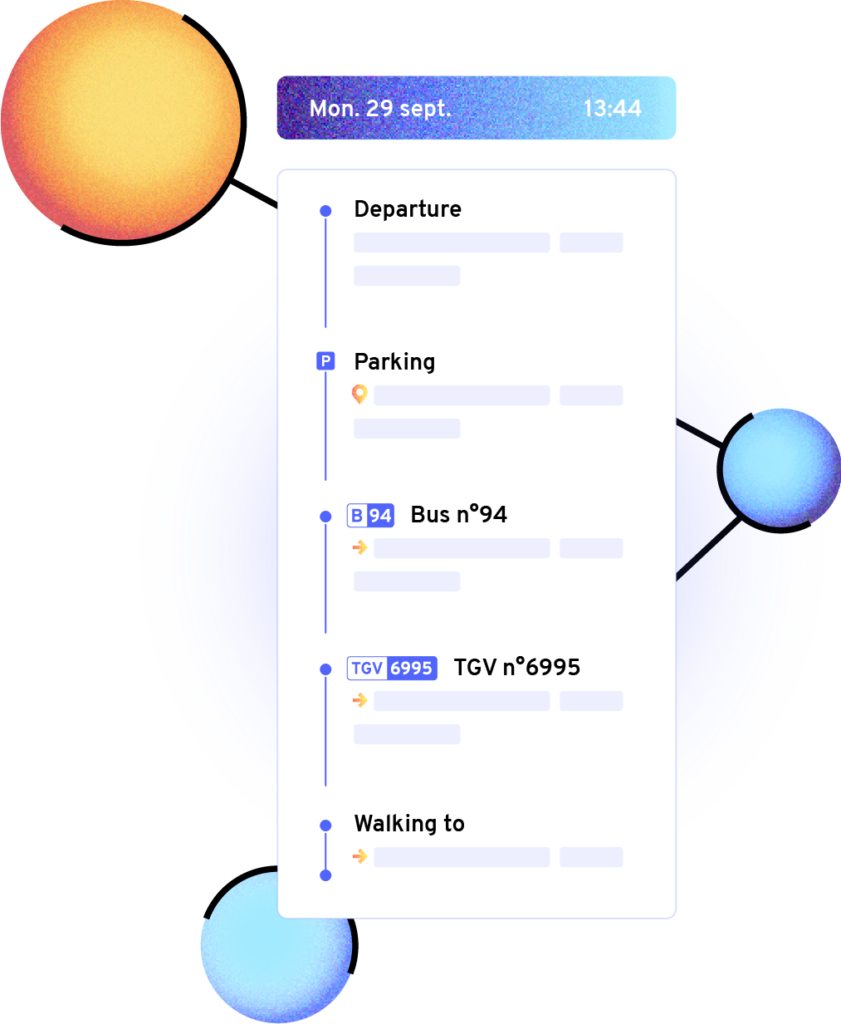 MaaS, the essential tool for simplifying and articulating the mobility experience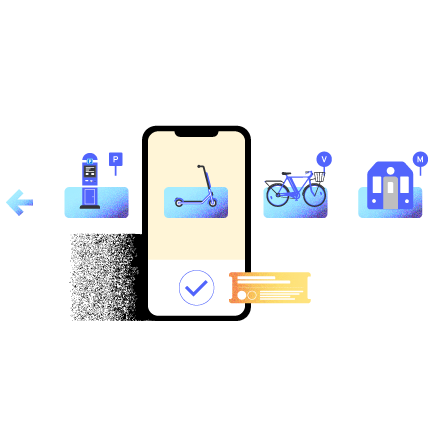 In order to best coordinate this intermodal offer, it is crucial to ensure information and ticketing. These two elements are essential to qualify MaaS. Acronym of "Mobility as a Service", this concept focuses on the user experience. The goal ? To rethink and simplify access to mobility. How ? By offering different modes of transportation on a single platform. The user will be able to plan and book all these transports directly. And this can go even further, as with Whim, the MaaS application pioneered in Helsinki. The latter has implemented a subscription giving unlimited access to different modes of transport. A package that offers a better articulation and competitiveness of the offer.
In our case, the motorist living in an underserved area will have access, via the MaaS platform, to all the information relating to mobility offers close to her home, schedules, availability, incidents, prices, etc. Real-time data contributing to the composition of his intermodal itinerary, which is as optimal as possible. Then to pay and book. Continuity is ensured via an inter-operator ticketing system and centralized pricing. And the experience can be further enhanced, via the integration of e-ticketing systems. Beyond a simple route planning platform, the MaaS solution provides an end-to-end mobility experience.